Despite making attempts to be a more intelligent shopper, I still make emotional decisions about clothes.  I try to make purchases of clothes that will fit my LBC (lifestyle, budget, and climate – thanks 365 fashion rehab!), but every once in a while I fall in love with something and throw LBC criteria out the window.  Then remorse sets in and my shopping bulimia resurfaces, i.e. I take it back to the store.  That's what return policies are for.
This was the case with Anthropologie's Overwhelmed Aster Dress (by Moulinette Soeurs).
When I tried it on in person, I was truly smitten.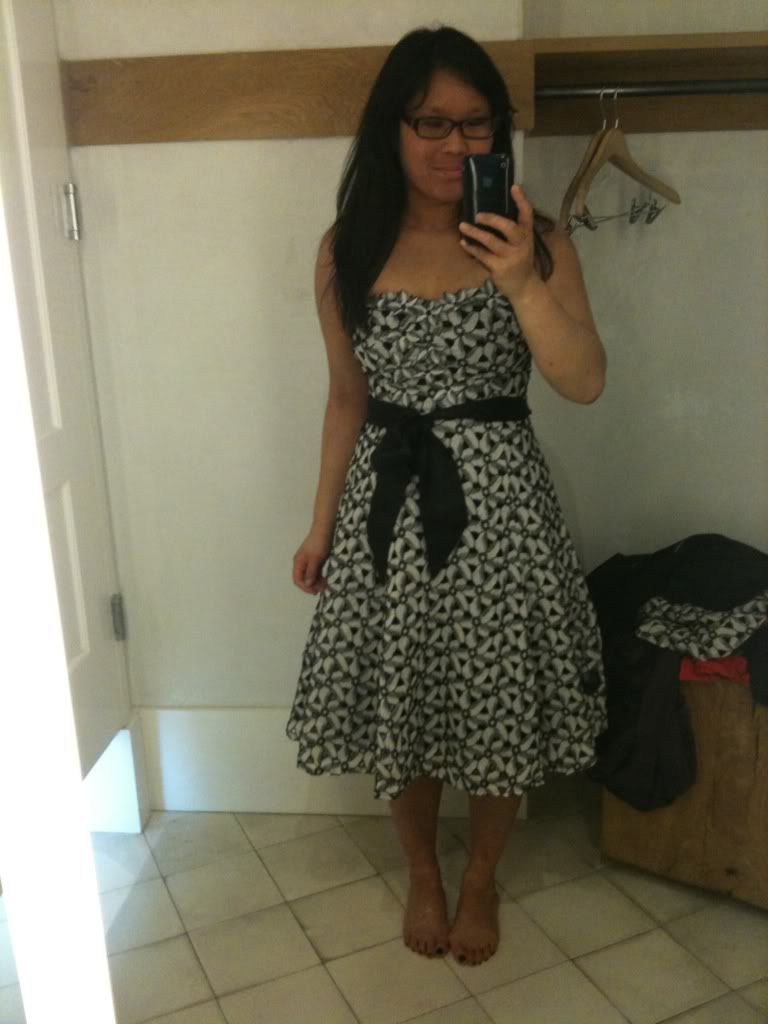 (Please excuse the red face and dishevelled hair, I'd just walked from my place to the Yorkville Anthro, about an hour's walk, and it was cold and windy that day.)
This is such a gorgeous and well-made dress.  I love the silhouette (even though it's strapless), the full skirt (crinoline underneath to keep it poufy), the sash, the black-and-white floral print, and the flower appliqués on the neckline. 

(with J.Crew Jenna's Cardigan and Michael Kors heels)
So why won't I keep it? 
Well, I have nowhere to wear it.  It's a little too fancy for my life, and I have no upcoming events (weddings, etc.) to wear it to, and even if I did have an event of that calibre, I already have a go-to dress.  So one strike for lifestyle.
It's also CAD$228 (US$188).  I'm not surprised at the price, and given the construction and design, I'm actually ok with it.  But still, it's too much for a dress I won't wear very often.  So strike two for budget.
Also, it's strapless (not the most flattering style for me) and just a little too long, even with heels, and the poufy crinoline (see it on Kim here) would drive me nuts.
So I can't justify this dress.  I love it and wish it had a place in my life, but practical must win out (effing practicality!).  Also, I really  I hope some lucky lady snaps it up and gives it a good home.