I thought the Mompos Dress deserved a post of is own, but there are other Anthro dresses that deserve some attention.  So many dresses!  I love it.  Maybe I'll forgo separates altogether and just wear dresses all the time. 
(Of course, none of these dresses come close to the most famous dress in the world today.  She looked gorgeous, didn't she?)
So here we go, three more: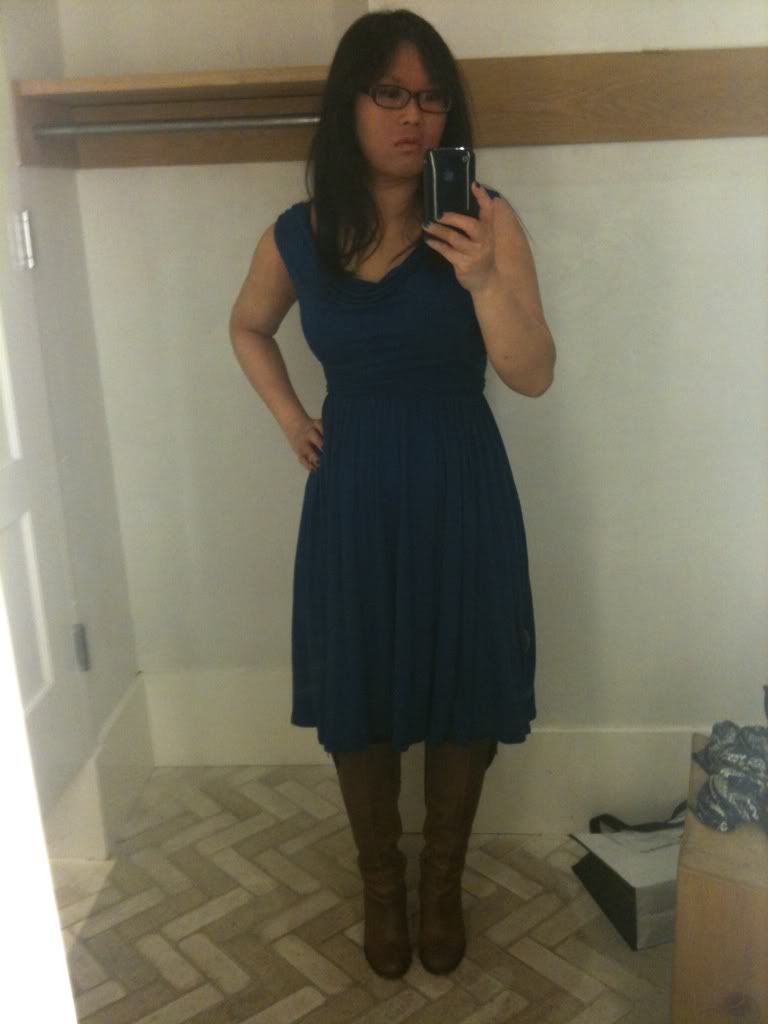 Pezza Dress by Deletta, CAD$148, size S.  This dress and I have had an interesting relationship. I love knit dresses and I love the deep blue colour, so it should have been a no-brainer, right?  Wrong.  I tried this on 3 times.  The above photo was taken a few weeks ago on the 2nd time around, the 2nd time I said no and put it back on the rack.  This despite the fact that this dress disappeared twice on me after the 1st time I tried it, and again after the 2nd time. I don't know what my hesitation was. Maybe because it seemed too close to the Network Dress? Anyway, when it miraculously appeared again at the Shops at Don Mills location, in the blue colour I love, and in my size, I didn't hesitate.  Third time lucky, right?  It came home with me.

Verdant Slip Dress by Moulinette Soeurs, CAD$168, size 6 (I tried on a 4, 6, and 8 and all fit thanks to the smocked back, but the 6 was the most flattering).  I'm in love with this dress (and as a side note, I really like a lot of the dresses from this brand this spring), probably because of the easy shape (wear alone or wear with a cardigan and tights) and the seafoam colour.  I normally don't like a big flower print, but this didn't make me feel like I was wearing a couch.  Love the pockets too.  Want.  May have to snap this up soon.

Isabel Dress by Deletta, CAD$148, size S.  I love knit dresses, and I love the shape of the dress.  It clings to every curve, but that's not necessarily a bad thing, right?  I just don't love the print.  I wish it were more black than white, or all black, or the deep blue colour of the Pezza dress.  I don't know.  I don't love it, but I might consider this if it were still around on sale.
I'm off to Ottawa for the weekend, so no Anthro until next week.  I could probably use a break!  I'm looking forward to seeing friends and family again, especially my nephew again (he's going to be 3 in June, he'll be such a big boy!), and my parents' dog, who just had surgery this week because she ate an open safety pin.  Poor dumb dog.