Today Will and I went to the lawyer to sign a mountain of papers and give them a very, very, VERY large bank draft.  Home ownership was a vague concept a few weeks ago, but now it's becoming a reality.  I think I might throw up.*
But let's not think about that, let's go on to the latest outfits in my 30 for 30 challenge.

Anthropologie Spotlights Tank (Ric Rac) | Mexx cardigan | Hilary Druxman necklace | Anthropologie Alluring Sway Skirt (Cartonnier) | Wolford Satin Opaque Tights | Miz Mooz Stella pumps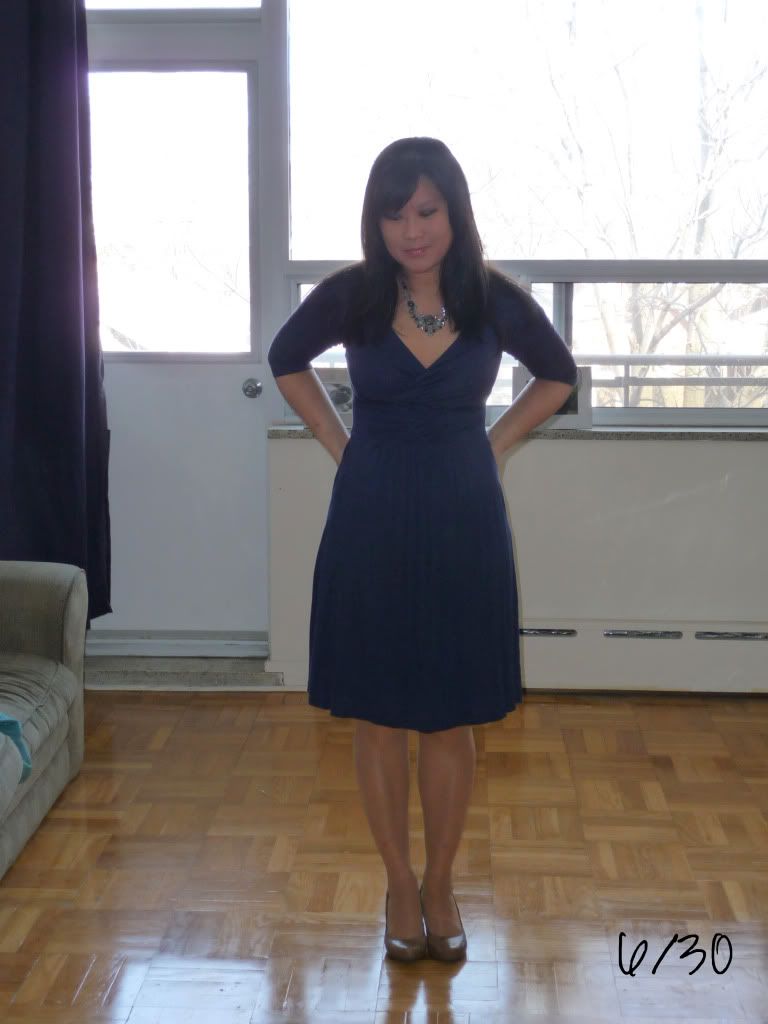 Anthropologie Network Dress (Velvet) | Ayala Bar necklace | Wolford Satin Touch tights | Bos & Co heels**
When I'm stressed out, it could go either way.  I could stop making an effort, or I could go for clothes that I know make me feel great.  These are my "magic items." A great pencil skirt and heels or a fantastically flattering dress does it for me every time.  I have to remember that these pieces exist in my wardrobe already, and I don't have to go out shopping to get that feeling. 
* I'm fine.  I'm just having some temporary anxiety.  I am so excited about this condo, but it's a big purchase and a big change, and seeing that it's me, it's hardly surprising that I'm freaking out a little.
** This is not how I walked out of my apartment this morning.  It's FREEZING (-25 windchill), so I also put on a thick sweater, leggings, and boots.  I peeled all that off at work then put it back on to go home.  It's a lot of effort, but it's what I have to do.