I had an interesting experience this morning (well, actually, last night, because that's when I lay out my clothes for the next day). I opened up my closet and had no idea what to wear.
It's not like this has never happened to me before. But during the course of the 30 for 30 challenge, I was pretty clear on what I was wearing every day (with the odd exception, usually on weekends with jeans), and I was even planning outfits in advance. Now that I've finished with 30 for 30 (I celebrated by spending the past four days in leggings and a hoodie), I'm suddenly at a loss.
Anyway, here's what I managed to come up with.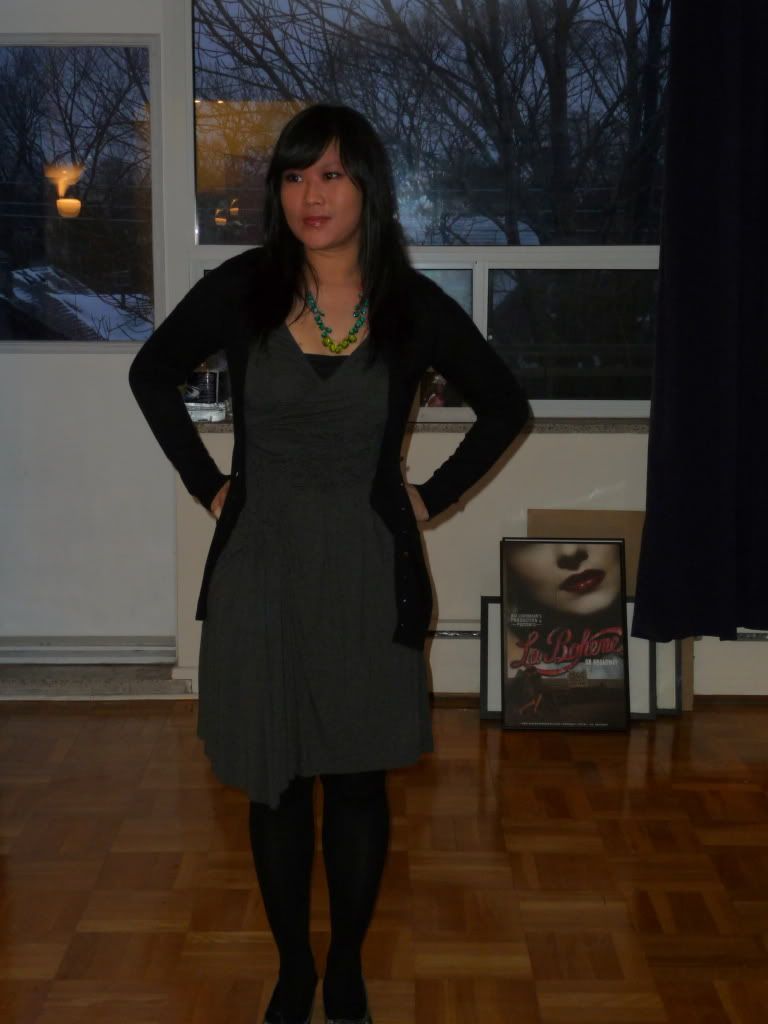 Anthropologie Daily Gathering Dress (Bailey 44) | Club Monaco cardigan | Anthropologie necklace | Wolford merino wool tights | Franco Sarto heels (cut off, but I swear that's what I'm wearing)
The merino tights are because it's freezing out in Toronto. I'm thinking I need to move to a land of perpetual spring/fall, because I hate the heat of summer and the bitter chill of Canadian winters. But I still refuse to wear pants; thanks to these merino tights and these lululemon merino legwarmers (not exactly as shown, mine are grey with a turquoise stripes at the thigh and the foot), I'll be able to wear skirts even in -20C/-4F windchill weather and not freeze to death.
The naughty Basset Hound went home yesterday. She woke us up at night, shed hair over our entire apartment, monopolized all soft surfaces (couches, beds, etc.), forced us outside in rain and snow so she wouldn't pee inside, peed inside anyway, smelled really bad, begged for food, stole food…and yet I miss her.
I took the day off to doggy-sit her, which essentially meant watching her nap.
I miss how she cuddled with me on the couch and looked at me with those huge sad brown eyes when she wanted something.
One day I'll have my own dog.