So I'm going back to work on Monday, and this is my last week of freedom.  I'm really going to miss sitting on the couch eating bon bons (my friend Patrick's dream), or in my case macarons and gelato.  I'm also going to miss being able to go to the grocery store in the middle of the day, watching Food Network and HGTV all day, going for long walks, and going to Anthropologie whenever I want to try on clothes.
I've been in the mood to try on a LOT of clothes, so here is what has attracted me lately.

Pesisir Top by Fei, CAD$88, size 6.  I've always admired the corset tops, but I've never bought one.  This one may just change my mind.  I love the purple batik print and the front pockets.  It's a little snug; I might consider sizing up for comfort.  Or I could stop eating macarons and gelato and drop a few pounds. 

Summer Souffle Dress by Moulinette Soeurs, CAD$218, size 6.  Talk about a disappointment.  Cute online, and look how cute it is on a mannequin, but one me it's too long, too billowy, too high-waisted (or not high-waisted enough??), too sheer (even with the voluminous skirt).  I'd love a white summer dress, but this ain't it.

Drapey Bubbled Tee by Bordeaux, CAD$68, size S.  I love the colour and the asymmetrical draping.  But I don't love the neckline, and the banded hem was a little tight around my hips, though that's easily fixed by sizing up.  Nice top, just not very "me". Pass.
 
Sagebrush Skirt by Blue Tassel, CAD$148, size 6. Love the colour, but I'm shying away from A-line skirts because of the added volume on my lower half.  This one isn't too voluminous and it fit well at the waist, but I'm not feeling the embroidered flower details.  It's a little too "twee" for my taste.  I'm not willing to spend $150 on a skirt I find just okay, and I probably wouldn't buy it on sale either. Pass.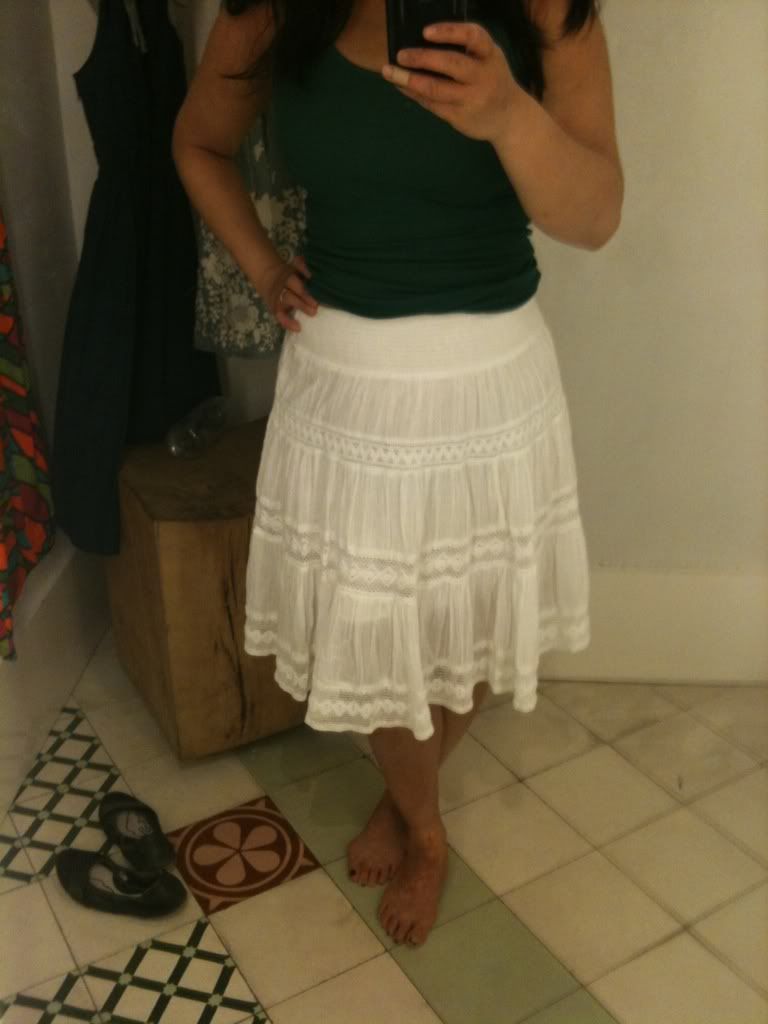 Gauzy Tiers Skirt by Edme & Esyllte, CAD$78, size S.  There's nothing wrong with this skirt—in fact it's a very nice summer skirt—but it's nothing special to me.  Pass.
 
Glass Glow Shift by Fish Fry, CAD$198, size M.  I guess this dress is supposed to look like stained glass, but I don't think I'd want a window in these colours.  I'm not a fan of the V-neck (is it low or is it high?), and the fit is pretty terrible.  I didn't like the stiff cotton fabric either.  Pass.

Approaching Blue Dress by Ankur Modi & Priyanka Modi, CAD$198, size 6.  This dress intrigued me in the April catalogue.  I love the idea of it, especially the two shades of blue at the hem, but I don't love it in practice. The neckline and the hem look messy.  The full slip underneath was really tight (I'd probably have to size up), and it was attached to the dress in a really strange way.  If I were to buy, I would detach the slip entirely.  The dress itself is a wrap that attaches with a hook and eye at the waist.  Now that I look at the photo of me in it, it makes my waist look really small, but that's not enough to make me want to buy it.  Pass.

Quechua Dress by We Love Vera, CAD$188, size 6.  I love the black-and-white print, the bright red sash, the light fabric, and the fact that it pulls on over the head (no hooks and zippers to mess with), but the fit is off.  Maybe sizing down would help, but I didn't love it enough to even bother.  Pass.
I feel like I've tried on the whole store in the past week, but out of these, only the Pesisir Top is likely to come home with me.  That's okay, I have my eye on a lot of other things right now.  If I wanted everything, I'd be in serious trouble.