I love coloured tights, but I rarely wear them.  I love how they look on other people but I find it hard to work them into my outfits, with some exceptions.
(i.e. all black with bright tights.)

Jacob black sleeveless top | J.Crew Jenna's Cardigan | Anthropologie Either-Ore Necklace | Club Monaco chiffon side-ruffle skirt | Wolford Velvet De Luxe 50 Tights in Crushed Berry | Michael Kors heels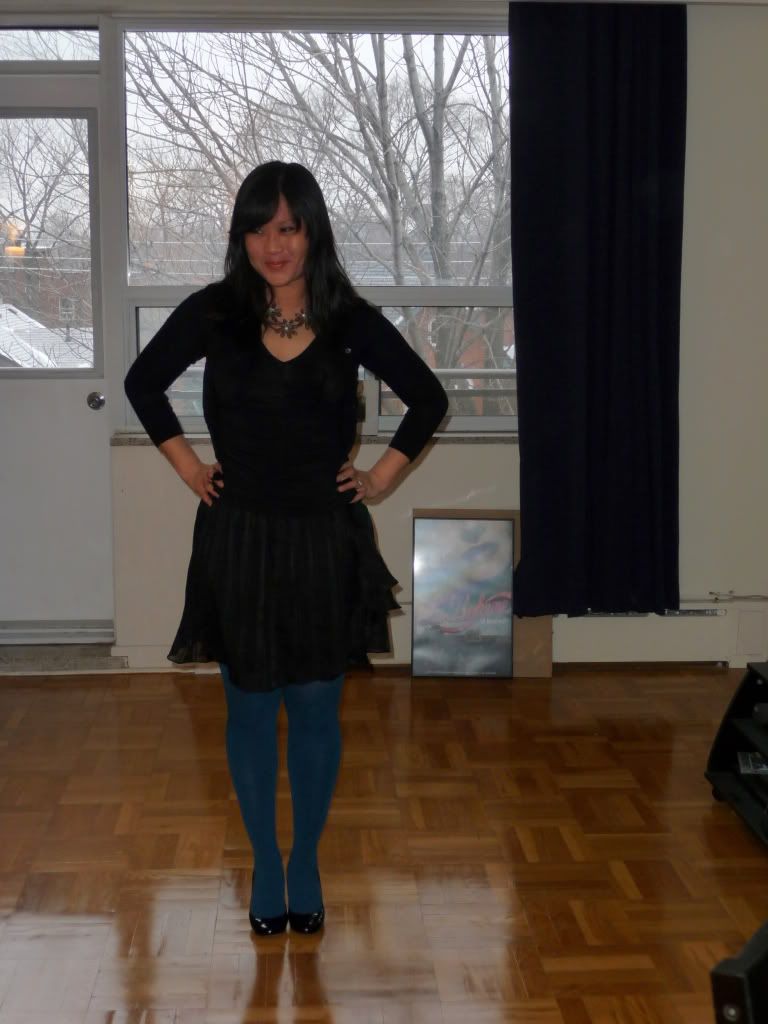 same as above, except for Hue Tights
I tried both the bright berry and bright teal tights with this all-black ensemble and decided to go with the berry.  I dunno, as much as I love teal, I'm not so keen on the teal legs.
I think I've touched on this before, but I have a very specific comfort zone when it comes to clothes.  I don't feel comfortable with crazy pattern- or colour-mixing.  I gravitate towards a more neutral colour palette with frequent pops of bright colour.  For a while, I tried to step outside the box and emulate the ladies who rock the bold colours and patterns, but I didn't feel comfortable (I felt like everyone was staring at me, even though they probably weren't), and more importantly, I didn't feel like me.  And you know what?  I know now that that's ok.  I don't have to wear anything I don't feel comfortable in.  Opaque black tights are classic, not boring.  At least that's what I tell myself.
To give credit where credit is due, the title of this post comes from the book of the same name by Claire Morrall. One of my New Year's Resolutions was to read more; I've had this book for a while and I read it a few years ago, but I don't remember any of it so I'm reading it again.  So far, one resolution kept.