I know, there's nothing original about listing Blair Waldorf as an inspiration.  And I think I'm a little old for Gossip Girl.  But still, I love how the costume designers dress Leighton Meester.  However, just to be clear, I do not want to dress like Leighton Meester, because when she's out stumping for her (laughable) music career, she's a disaster (further evidence here, here, and here).
What do I love about Blair? The dresses and skirts (like Blair, I hardly ever wear pants), the Wolford tights, the pearls.  Definitely not the school uniform or the headbands (like I said, too old for that), but this:

I want her hair, I want that dress, I want the little capelet.  I really want her hair, actually. 
And this: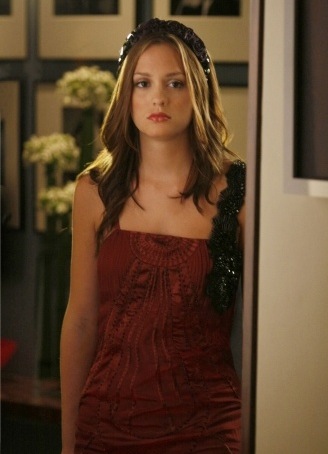 I love this, even though it could be tapestry:

See how cute it is next to Serena's hideous jumpsuit?

Still want her hair, and her necklace:

I bought a high-necked dress because of Blair:

I even like this:

Now if I can only convince my boyfriend to wear a white suit…