Will and I are going on a quick weekend trip to New York City to celebrate our birthdays/anniversary (our 12th was two weeks ago).  My sister and her husband are coming from Boston to meet up with us, and our plans are to eat and shop, and eat and shop.  And maybe some other things, but the main thing is to eat and shop.
Shopping:
The strong Canadian dollar (it's worth more than the U.S. dollar right now) and the lower sales tax in NY means that shopping, even at full price, is much cheaper than shopping at home.  I'm hoping to make an appointment with a personal shopper at Anthropologie, either at the Soho or Rockefeller Center locations, and I'm hoping to try these on, among other things:

Colorblocked Sweater Skirt (Girls From Savoy)

Liquid Acres Skirt (Tabitha)
I'm getting ready for fall.
I'm also planning to stock up on basics at J.Crew (pencil skirts, long-sleeved cotton T-shirts, cardigans), and browse all the designer stores in Soho that I can't afford. I'll pack light, but I expect my suitcase will be full on Sunday night.
Eating:
My sister and I have been planning where to eat for months, and it's hard to choose. 

Tomorrow night after we arrive, I'm taking Will to Birreria at Mario Batali's Eataly.

Saturday morning, we're going to Smorgasburg, the Brooklyn Flea Food Market.

Saturday lunch (if we haven't eaten ourselves into a coma), we're going to momofuku ssäm bar.

Saturday dinner is Fatty Cue in Brooklyn.  I don't think you can go wrong with a place that serves noodles with meat juices.
Sunday is a bit up in the air, but definitely a trip to popbar and possibly the Meatball Shop for some naked balls (yes, I'm twelve).
I'd planned my weekend around eating and shopping so I didn't think I'd have time for much else (we're only there for two days), but I decided I have to make time to go to the Alexander McQueen: Savage Beauty exhibit at the Met. I was going to skip it, but this picture changed my mind.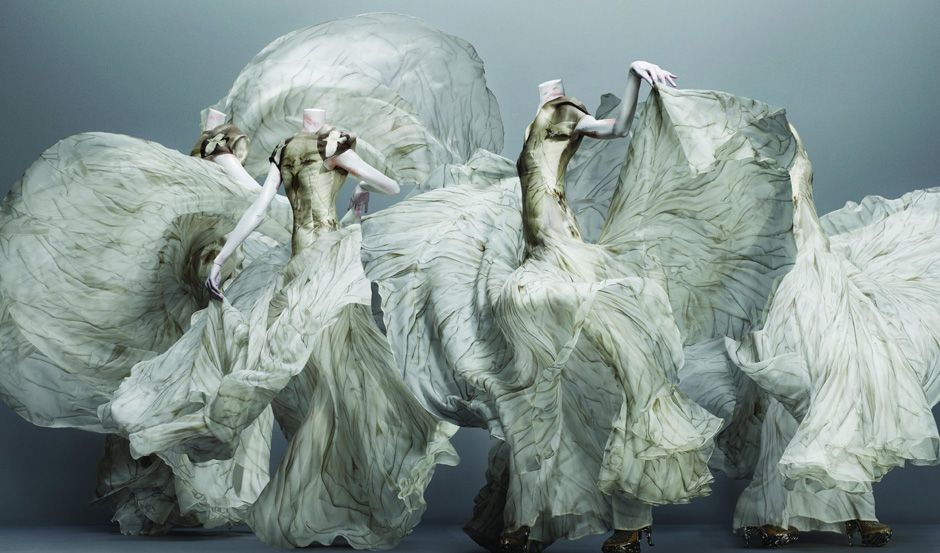 The last day of the exhibit is Sunday, so I'd better be up early to avoid the crowds.