I love a dressing challenge – as evidenced by the fact I've done 30 for 30 three times now – but unfortunately I'm a little late to Kayla's 21 Day challenge. Lucky for me, there aren't any rules about having to participate for all 21 days (and I'm usually a stickler for following rules), so I can join in now.

Anthropologie Drape & Twist Tee (Postmark) | Anthro Circle the Globe Skirt (Edme & Esyllte) | Tsunami Designs necklace | Tory Burch Reva flats
Blue is my favourite colour, so when I go monochromatic, it's with blue. I'm not convinced by this outfit though, specifically the top. It made me feel thick around the middle (but let's face it, this has been the summer of over-eating for me, so I am probably getting a little thick around the middle, thank God for elastic waistbands), and I felt like this all day: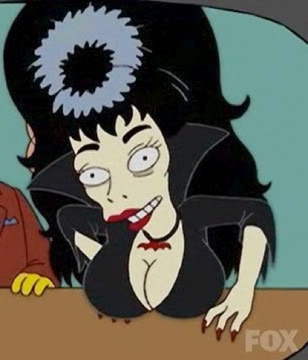 (via)
Not that I have any problem with emphasizing my chest, but maybe not to the point of emulating Booberella. Sometimes I really think clothes look better on flatter chests.
Anyway, I'm disappointed I didn't get my act together earlier in the the 21 Day Challenge, but oh well. Looking forward to participating in the rest of it.